(Albert Levy, via Nearness of Distance-- I cannot find any info. about him, but more of his work here)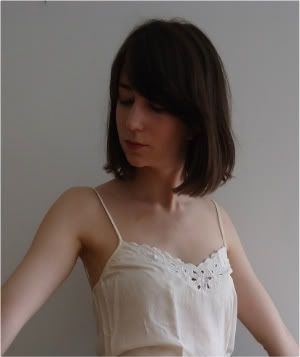 (Awkward crop of a future etsy update)
(I had started writing this post weeks ago, waited to have photos to show you, forgot about it for about a month, let my hair grow back a bit, remembered it and well, here it is finally because you guys all know how much I like talking about my hair dilemmas as well as hearing about other people's hair dilemmas.)
Ever since reading about
Claire's hair dilemma
some time ago, I had been feeling like a haircut was in order; nothing drastic, just refreshing my usual collarbone-length bob. I hadn't visited a hairdresser for some time, and had had friends cutting my hair for me or did it myself. But when I walked by a hairdresser announcing "haircuts for 18$, walk-ins welcome" I thought, why not? Well, I was quite wrong. Really, I should have cut my hair myself. With my eyes closed. Using a swiss knife. The hairdresser was lovely, but the cut she gave me, not so much: she cut my hair a good three inches shorter than I had asked her, which would not be so bad if she had cut it well- I had been tempted to try a shorter hair style for some time, but could not decide to take the plunge. It looked so choppy, that I kept trimming bits everyday until I gave in and got some good hairdresser (also known as
'Lesbian Haircuts for everyone'
, I kid you not) to fix it for me.
A bit of a
Bernice Bobs Her Hair
kind of story (you can read it
here
, please do!), although it was no life-changing experience for me, oh well. I'm now aiming towards something like
this
, if I can figure out how to get some kind of a wave in my pin-straight locks (any recommendations?).
Have you ever been forced into a hairstyle you ended up liking?