I haven't posted series of photos that inspire me for a while here, and I missed it. I thus scoured through the 'Parentheses Images Archives' (and trust me, they deserve such a name, they are quite extensive) and chose the photos that represented what inspires me the most at the moment. In fact, I found so many of them that I'll have to cut this post in a few sections! On with the first series...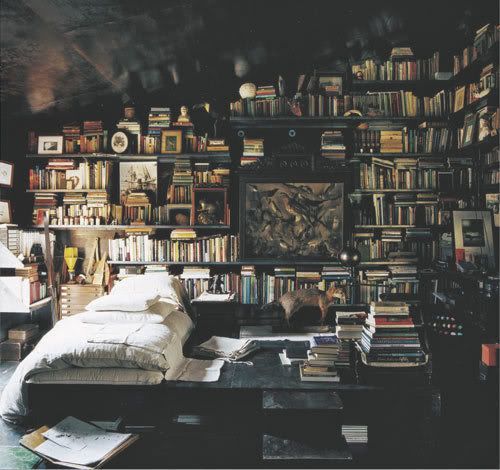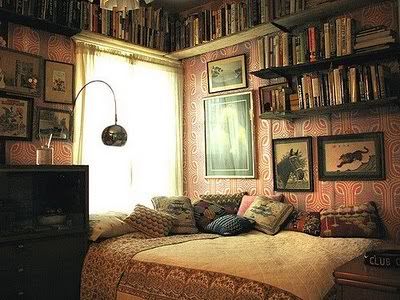 I. Bookshelves, or how to organise books
As you might already know, even though my first langauge is French, I am an English Literature student. You might also already know that I live with my boyfriend, who also happens to be an English Lit./Creative Writing student (but he does not speak French fluently hehe). Another thing you might know is that I'm quite a good thrift shopper. Something you might not know is that so is my boyfriend. Especially with books. Whatever knowledge I have of fabrics, he has of publishing houses: I can recognise real wool in miles of acrylic, he can spot the 'good' publishing houses amongst a sea of harlequins. We have no problems storing clothing, that's fine and alright, but we're starting to have a little 'book problem'. This means that we've been attempting to squeeze a third bookshelf in our tiny living room for the past few days, and no matter where we put it, our living room looks like an over-stocked bookstore. I've been thinking about putting shelves up to the ceiling and down the corridor as well, but I'm pretty sure we'll have to move out in a little over a year (our roommate, his brother, might move out) so it probably wouldn't be worth it. Any suggestions (other than getting rid of the books--we do both read and lend them enough to own them, I promise!) about dealing with massive amounts of books would be welcome.
P.S. Does it show I'm almost done all my papers, and have one whole free week to write my last one?
Photos: 1?, 2, 3?, 4?, 5?, 6?. (If you know any of the original sources/photographers, please let me know-I would very much like to give credit where it's due!)