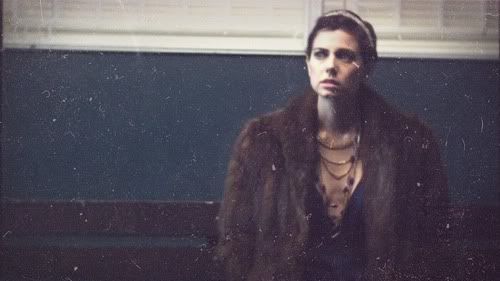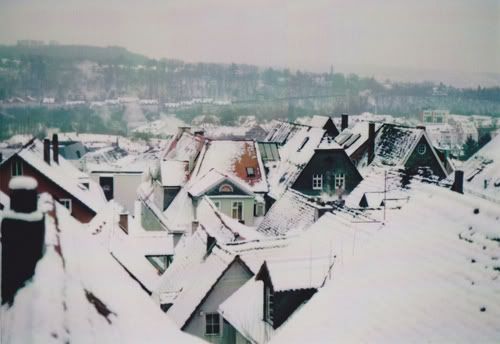 While I've always preferred more classical pieces of clothing, seeing so many around has left me a bit uninspired as of late. I think that what has been missing from all the images I have been looking at is a bit of personality. I realised that what I was looking for was more or less classic style, but with a bit of quirkiness: I would like to see more of odd/ thrifted/ old/ untraceable articles on people that could be their 'signature' item, or that let their personality see through a bit. The first photo is what triggered this reflection: while I've seen the Lou lookbook a bit everywhere around the blogs, I am still really pleased by the combination of cowboy boots and patterned rug with a very classic, well-cut outfit. I have to admit, I have a soft spot for anything cowboy in a small dose.

Actually, I think it's just that the infamous uninspiring time of the year has arrived, and even my little winter moodboard of a few weeks ago is having trouble to keep me afloat. I went as far as throwing all my fringe-growing resolutions out of the window and ended up giving myself a haircut yesterday, resulting in some kind of an early 60's bordering on Anna Wintour/Cleopatra but a bit longer (ok, Françoise Hardy) cut! Now, I will put away my scissors and see how it grows back (including the fringe, we've been hanging out for too long her and me - although Irina up there is giving me a hard time), just for a change. My inspiration will be back in a few days, I promise, and I'll be back with much more interesting and focused posts!

***

Bien que j'ai toujours préféré les vêtements plus classiques, en voir tant dernièrement m'a laissée sans inspiration. J'ai l'impression que ce qui manque à la plupart des photos que j'ai regardées est un peu de personalité. Je me suis rendue compte que ce que je recherche en fait est un style plus ou moins classique, mais avec une touche un peu particulière: j'aimerais voir plus de gens porter des articles hors de l'ordinaire/seconde main/intraçables qui pourraient être leur 'signature', ou qui laisseraient leur personalité transparaître. La première photo est ce qui m'a menée à cette réflexion: bien que j'ai vu le lookbook de Lou un peu partout parmis les blogs, j'apprécie toujours la combinaison d'un ensemble classique, bien coupé, avec des bottes de cowboy. J'ai un faible pour tout ce qui est cowboy, mais en petite quantité.

En fait, j'ai l'impression que le fameux temps de l'année déprimant est tout simplement arrivé, et même mon petit tableau d'inspiration d'il y a quelques semaines a de la difficulté à me tenir à flot. Je suis allée jusqu'à jeter par la fenêtre ma résolution de laisser pousser ma frange et j'ai fini par me couper les cheveux moi-même hier, résultant en une espèce de coupe du début des années soixante limite Anna Wintour/Cléopâtre mais un peu plus long (ok, Françoise Hardy)! Bon, je vais maintenant mettre mes ciseaux de côté et voir comment ça repousse durant les prochains mois (incluant la frange, ça fait trop longtemps qu'on se tient ensemble elle et moi - bien qu'Irina ci-haut rend les choses difficiles...), juste pour faire changement. Mon inspiration va revenir dans quelques jours, promis, et des billets plus intéressants et moins brouillons s'en suivront!