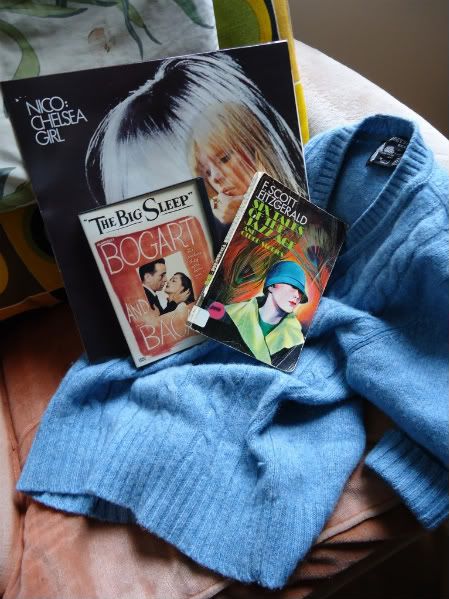 Things I enjoy at the moment (it's a quite long and eclectic list, be prepared!):

-Overcoming fears. I sung karaoke for the first time last week, and although I was very nervous at first, I ended up enjoying it very much. I think that the contrast between being almost terrified to sing in public and hearing a song that I like makes the feeling of accomplishment all the better.

-Salade niçoise, with tuna instead of anchovies, and sundried black olives instead of capers. Enough said, miam!

-Seeing classic movies that I kept putting off watching, namely The Big Sleep and Cat On A Hot Tin Roof. After a nasty virus took over my computer (and my throat) over the weekend, I finally got around getting the right cord for my dvd player (I used to find all my movies online, hum-hum). How have I lived without a tv-dvd set all that time? At the moment, it still feels quite luxurious.

-That's not something I'm really enjoying, but I'm slowly wrapping my head around wearing less pointy, more 'sensible' shoes. I have mentioned before that I danced ballet for many years, and I'm now paying the price for dancing on un-healed injuries. The only way to correct my foot now is through surgery, so I'm doing my best not to make things worse. Were pointe shoes really worth it? I'm not so sure anymore. Take care of your feet before it's too late!

-Buying records on an impulse. I'm so happy I finally got Nico's Chelsea Girl!

-I just finished F. Scott Fitzgerald's Six Tales of the Jazz Age and Other Stories and I highly recommed it. If you only have a few stories to read from it, you should have a look at "The Camel's Back", "The Lees of Happiness", "Hot and Cold Blood" and "Gretchen's Forty Winks" (actually, read the whole book, the stories are all very good!). You all know I have a soft spot for the 1920s' culture, but besides that, I found that so many things on which F.S.F. comments still ring very true today.

What's been making your heart sing as of late?