Last week, I received a beautiful pair of vintage Dingo boots I found on
etsy
, and immediately 'created' some spare time to work on the little project I had planned for them which I thought I'd share with you. I had wanted a nice, comfortable pair of ankle boots with a little heel for some time: a few years ago, I had gotten my dream pair of black ankle cowboy boots only to realise the left one was too tight (thank you years of dancing ballet...), and impossible to save no matter what my cobbler did. I thus decided to take the matter in my own hands after years of unfruitful search.
They arrived like this:
And I made them look like this: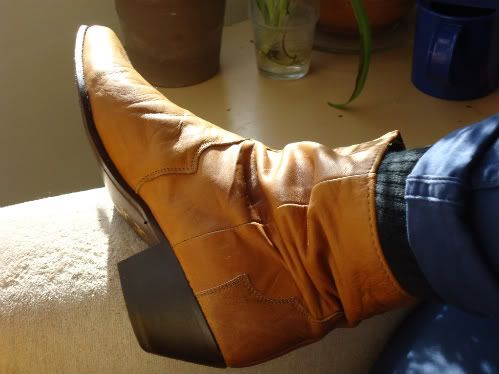 I gasped when I cut all that fringe off, but I don't think I could have pulled it off on a daily basis (I kept it, I might make a removable insert like this). I dyed them with olive oil, and asked my favourite cobbler to hem them. Voilà! The leg openings are a little wider than I expected, so I'm currently trying to think of the best way to taper them; I'll post more photos when I'll have that figured out.
What about you, have you ever ended up taking the matter into your own hands when it comes to clothing/accessories? I would very much like to hear your stories!